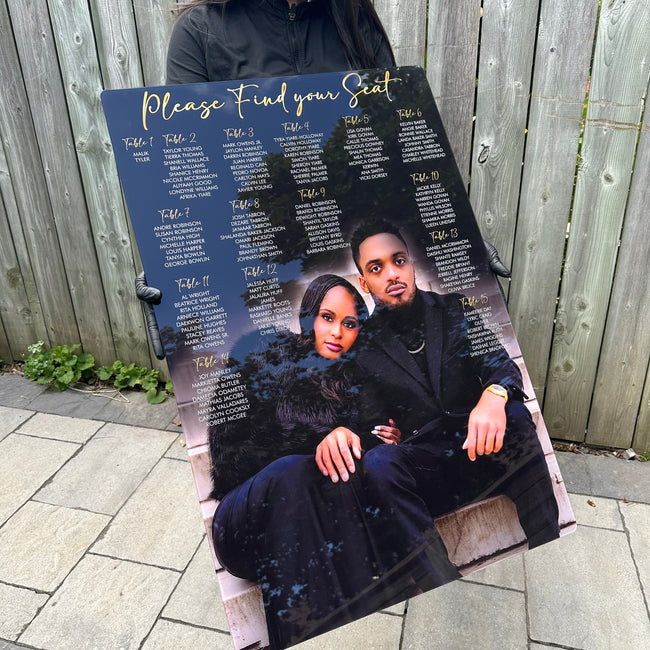 Custom Photo Seating Chart
Looking for ideas for your special day?  This custom guests seating chart is a great option.
Create a statement piece with a stunning personalized Photo Seating Chart that showcases your unique style and tells your story, use it for your wedding or any special event. 
Maximize your event decor with our a stylish and timeless piece that will make your special day even more memorable.
THE DESIGN PROCESS:
Expect your first design proof to arrive via email within 2 working days.

Up to four rounds of design modifications or corrections are included at no extra cost.

Once you approve the final design, no changes can be made to it.

Up to 5 days after you approve the design, you will receive an automatic email with a tracking number.
The package will arrive within the selected turnaround time. During checkout, you will have the option to select how fast you want it.
FAQs:
Does the easel come with the sign? No, the easel is not included.
What's the best resolution for the photo? For fair results, the photo should have 1600 x 1600 pixels. To get good results, the dimensions should be 2000 x 2000 pixels. And for excellent results, the photo should be 3500 x 3500 pixels.
How do I send the guest list? Please email it to us at hello@chicsigns.ca after you place your order, and make sure to include your order number.
What format do I provide the list in? Excel is preferred, but simple text also works. Please ensure you provide the list in the order you want it, whether alphabetically, by tables, or other.